Industrial Wales and Transport and Industy - Around the World

So just what have we got here, then?




Industrial Wales

Potted histories, potted maps, potted notes and potted memories on all the places that I and others have visited and remember, along with Grid References so that you can visit them too. There's still an awful lot I haven't visited yet so this will keep me busy and out of my wife's way now I'm retired. The trouble is, in the name of reclamation and re-generation, so many old and historic industrial sites are being lost to housing and supermarkets, because they're Victorian, not 'Roman' or 'Elizabethan'. This site goes a little way to recording them.

So loads of photos of Wales and Monmouthshire's Leftovers taken over the past few years with a few historical views thrown in for good measure.




Transport and Industry - around the World (in 80 mouseclicks !)

I started taking very poor photos of railways way back in 1960 on school train-spotting trips. Very slowly the photos improved and the daytrips turned into holidays and the holidays turned into retirement and the world was my oyster. So here are my photos of trains, trams. buses, boats and industry from 'way back when' and more up-to-date travels taken where-ever in the world I was at the time.




Click on the link below to go to other sections on this page


Major Updates
Major updates over the last few months though, as I'm out and about so much more often,
extra photos, historical photos and maps are being added regularly.
The menu bar at the top of the page will take you to the main page for each area, with links to smaller areas but to browse around, carry on scrolling down. You can also use the full site map and index under 'Other Pages'.

The Main Index

The main index gives details of all the main pages, the areas they cover and some of the main points of interest. The menu at the top of each page will take you to the principal pages for their area, many with links to smaller areas within them. For a quick list of all pages, go to the Site Map and Index


Monmouthshire - The Eastern Valley from Llantarnam to Waunavon

A fascinating area jam-packed with almost everything!

Ironworks, brickworks, coalmines, reservoirs served by railways, canals, tramways and inclines. This includes the surviving remains of the Hill's Oakfield Wireworks, the Whitehead 'red' and GKN 'white' brickworks and Henllys Colliery along with the transport system.

from Llantarnam to Upper Cwmbran, via Pontnewydd.

Burton's sidings, GKN Steelworks, Llanderfal trial level, Cwmbran Colliery site, the Caerleon Tramroad, Mineslope and Blaen Bran reservoirs.
There's also an awful lot of brickworks in Cwmbran!

from Panteg and Griffithstown to Pontnewynydd, via Blaendare, the Glyn Valley to Hafodyrynys, Cwm Frwd-oer to Tirpentws and Cwm Nant-ddu to Blaenserchan.

Panteg Steelworks, the skew bridge, County Hospital tramway, The NAHR stations, the canal basin and the tunnels under the canal, the tramway tunnel etc. Gypsy Level, Cwm Lickey pond, the Blaendare railway, Mountain Level, Albion Slope and Pit, Mynydd Maen Colliery etc. Glyn Pits, Quarry Level, Glyntillery Colliery, Hafodyrynys Colliery and the small levels in the hills behind, etc. Tirpentwys Colliery and its narrow gauge railway, the Blaen-y-Cwm tramroads and Black Barn level, Ty Shewy and Gellideg, Pantygasseg level and the canyons. Greenland, Blaenserchan and Llanarth Collieries, the Robin Hood Inn, Graig Ddu brickworks, Pen-rhiw-fid incline and a number of small levels.

from Snatchwood to Lasgarn, via Cwmbwrgym, Cwmsychan and Tal-y-wain. - Cwmbwrgym Colliery and the water balance, Cwmsychan Colliery and the ironworks reservoir, Lasgarn tramway and quarries, Abersychan town and quarry etc.

All things 'British' - Big Arch, British ironworks, British village and British quarry. The Cornish engine house, ironworks and office block, even an outdoor swimming pool. The almost-lost village of British, small cottages, terraced rows and big houses, an incline with 'them and us' subways under it that led to the quarry.

from Talywain up Cwm Ffrwd to Varteg Top and back down to Varteg Village - Talywain, Golynos, Garndiffaith, up the Cwm Ffrwd valley onto the moorland above it with its unusual rifle range, Thenback down past the various Varteg Collieries, Cwm-y-glo level, Varteg incline and the LNWR and Varteg Hill branch.

from Cwmavon to Waunavon, via Forgeside, Big Pit, Coity Mountain, Garn-yr-erw, Pen-fford-goch and the Blorenge tramroad. Hill's Tramroad from Pwlldu, Tyla and Garnddyrys to Llanfoist

Johnson's Mine, Blaentillery Colliery, Milfraen Colliery, Marquess Red Ash Level, Aaron Brutes Level, Blaenavon Ironworks, Hills Pit and New Pit, Pwlldu tunnel and quarry, Tyla and Gilwern Hill quarries, Garnddyrys ironworks and Llanfoist inclines.
Monmouthshire - The Western Valley from Pontymister to Brynmawr and Ebbw Vale

from Pontymister to Risca, via Ochrwyth, Danygraig, and Darran.

Darran Colliery and Cwm Byr, Ochrwyth and Dan-y-graig Quarries, Darran Quarry tunnel and a fascinating set of photos of Dan-y-graig leadmine in 1986 before it was sealed. Archdeacon Coxe visited the area in 1797 and recorded what he saw but where exactly was he and what was he looking at?? The probable theory and a possibility are explored here along with photos and maps of this maze of very old coal, iron, lead and clay levels, tips, watercourses, tramroads and an incline along with the ruins of Waun-fawr village. Drill Hall level, Full Moon, Cox's Quarry and its inclines, North Risca Colliery, the aerial ropeway up to its tips and the tips themselves. Halls Road Tramroad and old cottages alongside it.

from Cwmcarn to Kendon via Abercarn, Newbridge, Treowen and Crumlin.

Cwmcarn Dam and the drowned woollen mills, Cwmcarn Colliery, Henllys Colliery drainage level, Pont Hall and Jamesville Quarries, Halls Road Tramroad and it's old and new viaducts and an exploration of the lost farmsteads along Nant Carn.
Celynon South Colliery and its aerial ropeway, Abercarn Tinplate Works and a curious tunnel under High Street leading to Distillery Pond, West End and an exploration of the lost farmsteads in the Gwyddon Valley.
Celynon North Colliery, Crumlin Navigation Colliery, Hall's Road Tramroad as it winds around Newbridge past Twyngwyn, Crumlin Viaduct, Kendon Colliery and old farms and industries on Mynyddislwyn.

from Swffryd to St Illtyd's, via Nant-y-Cnyw, Blaencuffin and Mount Pleasant.

Dozens of small and some very old collieries around Blaencuffin, Llanhilleth Farm and along the outcrop, Llanhilleth Colliery itself and nearby quarries, tramways and inclines.

from Trinant to Cwmtillery, via Pentwyn, Aberbeeg and Six Bells.

with inclines and collieries at Trinant, a packhorse bridge in Aberbeeg, the Guardian of the Valley and all manner of collieries and quarries from Abertillery up to Cwmtillery and the head of the valley for 'Roben's Folly'.

from Blaina to Llangattock Mountain, via Nantyglo and Brynmawr.

The Blaina Red Ash Collieries, John Monks Quarry, Nantyglo Roundhouses and Ty Mawr, a hand-grenade firing range and limekilns on Llangattock Mountain and the remains of many old tramroads in Brynmawr.

from Pen-y-fan to Rassau via Cwm, Waun Lwyd, Victoria and Ty Llwyn

Pen-y-fan Colliery, Graig Fawr level, Ty Llwyn and Bwlch-y-garn, the levels and quarries above Victoria, Waun Lwyd and the Silent Valley incline.
Also some interesting historical photos of Victoria Ironworks.
Monmouthshire - The Clydach Gorge from Brynmawr to Abergavenny

To Llangattock on Bailey's Disgwylfa and Llangattock tramroads and to Gilwern on the Clydach Railroad with small mines near Brynmawr, Hafod Arch, Black Rock quarries, Cheltenham, Llangattock quarries and incline and down the tramroad to the canal dock at Gilwern.

To Govilon on the MTA and Bailey's Govilon tramroad, to Gilwern on the Llammarch tramroad and to Pwlldu on the Blaenavon stone road passing Gellifelen Collieries, Daren-felen, Llanelly Hill Quarry, Clydach Limeworks, Clydach Ironworks, Blaen Dyar, Llanelly Forge and Gilwern dock.
Monmouthshire - The Sirhowy Valley from Wattsville to Trefil

From Wattsville to Blackwood

Via Cwmfelinfach , Ynysddu, Wyllie, Gelligroes, Pontllanfraith, Pentwynmawr and Blackwood including the Penllwyn and Llanarth Tramroads, Nine Mile Point Colliery ropeway and Wentloog Colliery

From Argoed to Markham

Old collieries at Argoed, Penderi and Cwrt-y Bella, then Llanover Colliery and the various incarnations of Manmoel Colliery ending up at Markham Colliery.

From Hollybush to Trefil

travelling through Pochin, Bedwellty Pits, Troedrhiwgwair to Tredegar and up past Trefil along the Brinore Tramroad.
Monmouthshire - The Rhymney Valley from Machen to Rassau

Bedwas, Trethomas, Rudry and Waterloo.

Ancient workings and recent quarrying at Rudry and in the hills behind, Waterloo tinplate works, old and new photos from Bryngwyn Colliery, the ruins of Bedwas Colliery and an interesting survival from Cwm-y-glo Colliery.
The coal mines, quarries, forges and old transport systems around Machen, including Machen Forge and its tramway, fascinating bridges over and under the Brecon and Merthyr Railway and the still well-used Machen Quarry with its impressive limekilns.
Ancient lead workings spread through the woods around Draethen village, some going back to Roman times. Later the Victorians tried to make the mines profitable but failed. Finally the stone proved more valuable but the large quarry at Cwm Leyshon is now also disused.

Caerphilly, Llanbradach, Maes-y-cymmer, Penallta, and Nelson.

Some old and new photos from Caerphilly and Penallta, including the shaft of Rhos Llantwit, quarries and tips in Llanbradach, old workings around Maes-y-cymmer and bits and pieces at Penallta and Nelson.

Darran Valley and New Tredegar.

The Darran Valley with Groes-faen Colliery, Darran Colliery memorial, the BMR through Deri, Ogilvie Colliery and Elliots Colliery in New Tredegar amongst others.
Monmouthshire - Newport City and Rural Monmouthshire

Newport City, Castleton, Rhiwderin, Rogerstone, Caerleon and Ponthir.

A whole host of diverse things around Newport and its suburbs, including the refurbishment of the Mendalgief branch and the remains of other branch lines, Ponthir Tinplate Works and odds and ends around the Wye Valley.


Abergavenny, Crickhowell, Sudbrook, Tintern, etc.

A whole host of diverse things around Rural Monmouthshire, the railways around Abergavenny and Tintern, Sudbrook shipyard and the Severn Tunnel pumping station plus many odds and ends between the Usk and Wye Valleys.

The Rest of Wales beyond Monmouthshire

From the City of Cardiff and along the coast towards Bridgend past Barry and the quirky Aberthaw Pebble Limeworks. Up the Taff Vale past incredible quarries and iron mines to Merthyr along old railways, canals and tramroads right into the Brecon Beacons, with just a quick trip to the Rhondda valley.


From West Glamorgan through Breconshire and Carmarthenshire to Pembrokeshire.

Swansea, Pontneddfechan with its gunpowder factory and silica mines, Penwyllt for brickworks, silica quarries and the Neath and Brecon Railway. Old industries along the Gower coast and a visit to Dolaucothi gold mines. The industries and collieries along the Saundersfoot Railway. Porthgain's quarries, railway and the huge crushers at the harbour. Round the corner is the blue lagoon of Abereiddy.


The Rhosydd Quarry at the end of the Croesor Tramway is quite amazing, even with the clouds down, just such a long walk to get there. But then it would have been spoiled if it was easy to access. So well worth the effort as is Blaenau Ffestiniog, the Great and Little Ormes, Dinorwic and the Snowdon copper mines.

A first-class day return to Welshpool via Talyllyn, Festiniog, Lannberis, Snowdon and the Great Orme, please. Oh, and a footplate pass if you're giving them out - Oh, I wish! I did manage a footplate ride on the Llanberis Lake Railway in 1974 and what an experience. So, sit back and enjoy the ride.
The Rest of the UK beyond Wales

Including the Luxulyan Valley and around Newquay and St Ives in Cornwall,
Torquay to Dartmouth and the Dart Valley Railway in Devon,
Weymouth Harbour tramway in Dorset, the West Somerset Railway,
Bristol's docks and railways, Bath railways and canals and Box underground quarry.

Including The Bluebell Railway, Bressingham, the unique Dungeness fish tramways, The Isle of Wight, Leighton Buzzard, Ludlay, Quainton Road, Ripley, Rodmell, Sittingbourne and Wimbledon.

Including Birmingham, Corby, Crewe, Leicester, Derby and the Crich Tramway Museum, Nottingham and it's trams and the Peak District.

Including many very old and not so good photos from the 1960s plus Blackpool trams, The Lakeside and Haverthwaithe Railway, The Keighley and Worth Valley Railway, The North Yorkshire Moors Railway, Kepwick and the Rosedale branch. Also some historic Irish photos from the 1950s taken by Donald Kelk.
The Rest of the World beyond the UK

An ancient trip to Tunisia in 1971 and modern trips to Egypt and Casablanca in Morocco form the contents here. Any visit to the industries, shipping and railways of Egypt needs a lot of ingenuity, persistence and resistance to high temperatures. And Casablanca has a very new, modern tramway and some road/rail tractors.

The dangerous but addictive tramway to Santa Therese has to be seen to be believed in Rio as have San Fransisco's cable cars and vintage streetcars. Any cruise round the caribbean turns up a lot of shipping but the odd railway and a brand-new tramway make a pleasant change. A quick visit to the salt-flats of Bolivia.

The trip of a lifetime - The Darjeeling Himalayan Railway, Kalka to Shimla by mainline narrow-gauge railway and steam!, the Nilgiri Mountain rack railway, Dehli Railway Museum, Continent-crossing mainline railways and primitive bricks and brickworks. And scenery to amze you !!

Business trips to the Central and Northern cities in Belgium, France, Luxembourg, Sweden, Austria and Germany are a great opportunity to try out the trams and metros but my favorite has to be the steam railways of the Harz Mountains in Germany with memories of being chased off the wrong train onto the right train by a very worried lady guard.

Holidays to Greece, Gibraltar, Italy, Portugal and Spain, the slightest touch of Turkey, a taste of Croatia and the holiday islands of Menorca, Minorca and Corsica provided some good industrial . Some of the more interesting things are the big guns of Minorca, the amazing Soller tramways on Menorca and a trolleybus in Ventemiglia in 1984. Gibraltar is amazing from just a couple of days on a cruise but I'll have to go back...

Four trips to New Zealand have left loads of memories and far too many photos. So we've taken the Coast line from Picton to Christchurch, the Overlander from Wellington to Auckland and the Daffodil Express to the Wairarapa. Also some interesting forts overlooking Wellington Harbour. Of course you cannot visit New Zealand without walking the Rimutaka Incline - just stunning. Plus plenty of odd spots in between.....

The trains, trams and monorail of Sydney and some mining relics in the Blue Mountains. Also some odd spots visited while getting to or from New Zealand - the oddest is Hong Kong, what an incredible place!. Someone's linked the Tonga photos to Wikipedia would you believe! (not me, as it happens, but thank you whoever you are).
Other Things that can't be pigeon-holed (except for pigeons!)

The bricks that I've tripped over in my travels in alphabetical order of their imprints rather than location or source. A great many are from Monmouthshire but there are quite a few from elsewhere, including the amazing brickworks of India and their products and an interesting range of bricks from New Zealand. I'm adding more details of the individual brickworks under their locality as I update pages.

There's an incredible range of boundary stones and markers dotted over the moorlands of Monmouthshire, some very simple and some very elaborate. Many have initials and meanings that are lost on us now and we can only guess who's boundaries they were marking. There's also one or two from elsewhere.

These are the ships that have passed in the daytime in alphabetical order of their names rather than location, though most can be found in the pages for their location as well. There's everything from fine sailing ships, warships, cruise ships to derelicts just staying afloat.
This is your Health and Safety Officer speaking
Old industrial sites are extremely dangerous - End of story.

If you do go exploring, you will break your neck falling off crumbling walls, get crushed under collapsing beams and ceilings, choke in toxic air, drown in stagnant water, plunge for ever down bottomless pits or disappear, only to be found years later after 95% weight loss. Unless you're extremely careful. Tell someone where you're going or, better still, take a friend. If you don't know what you're doing, please don't do it. I want you to enjoy our heritage, not be it's victim.


Background and Technical Information
I love maps so most of my own input has been by examining the old maps of Monmouthshire and relating the sites to today's Ordnance Survey maps. Then, when I get the chance, I go exploring and photographing what is left. I've found that a great way of finding new areas to explore is to join the Ramblers Association. I'm a member of Islwyn Ramblers :-
http://www.islwyn-ramblers.co.uk/index.htm
and I've stumbled across many interesting sites on their rambles. For a not-too-serious record of my ramblings and roamings, have a look at the 'Talk of the Walks' page on their site.
The history snippets are taken from the published sources acknowledged on the 'Further Reading' page. Dates prefixed 'b' usually refer to when a site first appeared on the OS map and when it was marked 'disused' or was no longer shown. The dates on OS maps are usually the dates they were published so sites on them have appeared or disappeared a few years earlier than those quoted.
All the photos and sketches are mine or my contributors and copyright but you are very welcome to download, print and use them for your personal research etc. If you do find out anything interesting please let me know.
The site has been created and maintained using 'Notepad++', an excellent free HTML editor (no relation to MicroSoft's 'notepad'), viewed in Mozilla Firefox or Chrome browser with a resolution of 1280 x 800 and hosted by strato-hosting.co.uk.
If you want to get in touch, just click here :-
Contact Me
or drop me a line at webmaster @ www.industrialgwent.co.uk particularly if something's wrong or not working properly.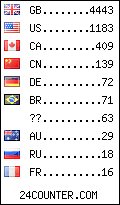 flag counter